From 22 to 26 January, BOZAR presents the 3rd edition of Bridges. East of West Film Days, dedicated to films from countries situated on Europe's eastern border: Georgia, Ukraine, Armenia, Azerbaijan, Moldova and Belarus.
Thirty years after the collapse of the Soviet bloc, filmmakers in these countries have forged an essential voice for reconstruction. Even though a few of their films make it to our theatres, international festivals are justifiably rewarding an increasing number of directors from the region.
For five days and with around 15 films, BOZAR will invite the public to discover this prolific and singular cinema genre: a wide-ranging spectrum, key to understanding the construction of the European identity 30 years after the fall of the Berlin Wall.
More info on Armenian films: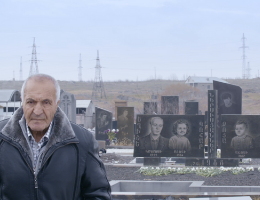 Great Expectations (AM/GE/FR, 60′, 2019) – Sona Simonyan
Mayak (The Lighthouse – AM, 78′, 2006) – Maria Saakyan
Partners: European Commission/ Arthouse Traffic / the Georgian National Film Centre / GAIFF (Golden Apricot Film Festival) / Listapad Film Festival / the Armenian General Benevolent Union (AGBU Europe) / Ukrainian State Film Agency / Embassy of Azerbaijan to the Kingdom of Belgium and the Grand Duchy of Luxembourg