24 April 2014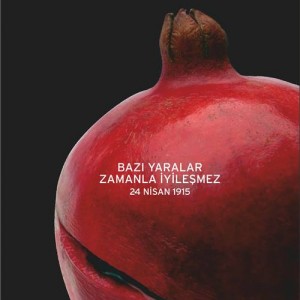 PRESS RELEASE - Istanbul, the 23rd April 2014. Following the declaration by the Turkish Prime Minister offering condolences on the occasion of April 24, the human organizations IHD and DurDe (Turkey) as well as EGAM and AGBU Europe issued the following press statement.
Even if today's declarations by Erdogan may appear as a step forward, they are the continuation of the state policy of genocide denial of the Armenian genocide of 1915.
This has to be clear for all: the change in Erdogan's discourse, who insists in not recognizing the policy of genocide, is not the result of a late and sudden awareness of historical facts which have been known for a long time.
Turkey and its PM have to recogn
ize that it was a genocide that took place in 1915 against the Armenians, and they have to take all measures in line with the official recognition of historical truth.
For several years now, part of the civil society has paved the way to what should be done by recognizing historical truth and by commemorating the Armenian genocide, in Turkey. In this connection, we recognize the freedom now allowed by the current government to aknowledge and commemorate the genocide in Turkey.
The European delegation lead by th
e European Grassroots Antiracist Movement – EGAM and the European Armenian organization AGBU Europe, which is present in Istanbul for the second year running to commemorate the Armenian genocide at the invitation of Durde! and IHD, takes part in these efforts to fight for democracy and against genocide denial.
There is still a long way to the official recognition of the Armenian genocide, but the movement within civil society in this direction in this respect is clear, meaningful and strong; we are waiting,  therefore, for numerous people to attend the commemorations tomorrow, on the 24th of April in Taskim Square 19.15pm.
Related AGBU News:
The campaign on the web: http://www.remember24april1915.eu
AGBU Europe: www.agbueurope.eu
DurDe!: www.durde.org
EGAM:http://egam-eu.blogspot.be/